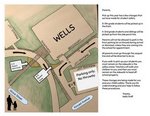 Map of Arrival and Dismissal Procedures
We have made a few changes to dismissal. This is the map that we passed out at open house to parents.
In order to keep your children safe during arrival and dismissal, please adhere to the directions.

Teachers will be helping direct you each day. Pay attention for cones that are blocking areas.

Please use the carpool lane ONLY for drop off and dismissal. The main parking lot is for PARKING only and is not a thru-way.